After eight months of development and production, the Snatch Comics Treasury is finally shipping from the printers to the distribution agents. Dan Fogel, Patrick Rosenkranz and myself collaborated on the the book, which is printed slightly larger than the original 5×7 inch size and features every page from the three issues of Snatch Comics. Rosenkranz wrote a sweet article on the historical significance of the original publications and Fogel wrote a personal history of Don Donahue, who originally published the seminal (and semen-soaked) comic books.
I designed the covers for the book as well as the interior pages, which includes nifty fold-out pages (7×10″) for the three original center spreads, as well as fold-outs for S. Clay Wilson's "mates" cartoon (from Snatch #1, which was originally a two-page spread in the first printing) and Rory Hayes' "juices" cartoon (from Snatch #2, which will include the red, green and rainbow-colored juices!). This deluxe, square-bound book features a 16-page color section at the beginning (including reproductions of the original front and back covers), followed by 108 pages of glorious black and white underground smut.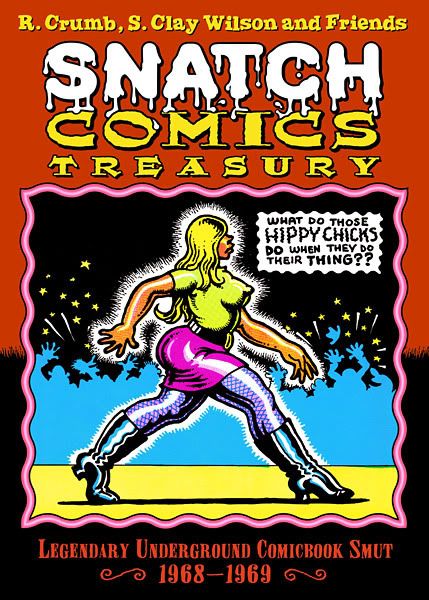 The book will retail for $19.95 and will be distributed by Diamond Comic Distributors, Bud Plant, Fly Dragon Studio (a publishing partner) and Dan Fogel, who will be selling copies at the San Diego Comic Convention in July. In addition to the regular edition, Dan and I are still coordinating be two signed and numbered limited editions of the book, which will be sold for $49.95 a copy. One set (of 250 books) will be signed by Robert Crumb and another set (of 250 books) will be signed by S. Clay Wilson.
S. Clay Wilson is the primary benefactor of this project. A significant portion of the book's proceeds will be given to the S. Clay Wilson Trust Fund, which has been set up to help Wilson with his medical expenses. Just yesterday, Robert Crumb volunteered to donate every penny of his usual licensing fees for this book to the Wilson Trust Fund.
If you are interested in buying copies of the book, you can email me at msteven@comixjoint.com. I will be happy to accept orders and forward them on to Dan, who is organizing a significant mail order operation for individual sales. We haven't figured out the shipping costs for anything yet, but you can still let me know you are interested and I will get back to you.
Needless to say, we expect a very quick sellout of the signed and numbered limited editions. Getting any comic book with a genuine Crumb signature for $50 would be considered a bargain in most circles. Imagine getting a first printing of a deluxe Snatch Comics anthology with Crumb's signature for $50. And Wilson's limited edition is pretty awesome, too, considering that this will almost certainly be the last comic book title that Wilson is able to sign.
So cum one, cum all, cum buy a copy or three for the benefit of S. Clay Wilson.